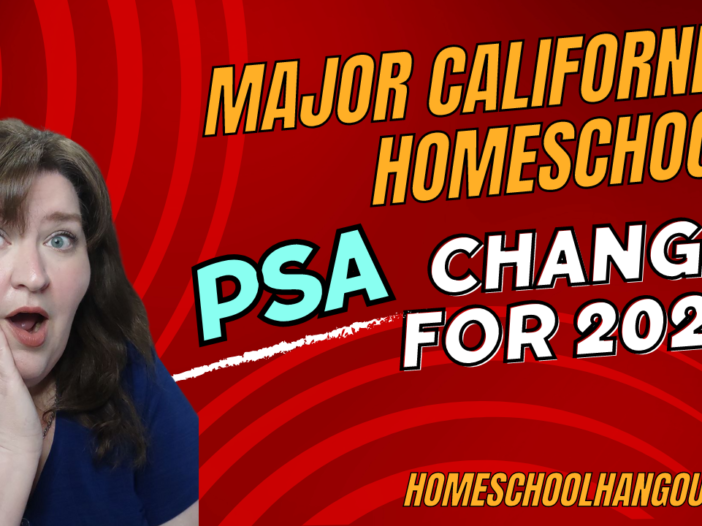 There has recently been a major California Homeschool PSA change regarding the availability to file for the 2023-2024 school year. I am sure you may have questions as to what it means but breathe, it will all be just fine. Let's look at how things used to be, what the changes are, and how it affects private homeschoolers in California going forward.
Table of Contents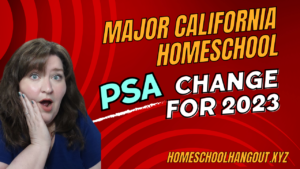 How it used to be for the California PSA
So, the education code states that if you are an existing private homeschool in California, you are to file your California PSA (Private School Affidavit) between October 1st and October 15th of the school year. That PSA is for the school year that goes from August 1st of one year until June 30th of the next.
The California PSA remained online and available for any new schools for that are established in the school year (or anyone who forgot to file between October 1st and 15th). On June 30th the PSA for the old school year went down and you were unable to file anything until October 1st. All schools formed before October 1st and continuing schools could begin filing on October 1st.
What California Homeschool PSA Change is
The change is simply that the California PSA for the school year will become available on August 1st instead of October 1st for the whole academic year. That is really it. The statue still reads that you file from October 1st until October 15th but the PSA itself will be open starting August 1st. This is a change in practice meaning you can start filing on August 1st but they didn't go through and actually change the statue. The PSA will still be unavailable for filing for the month of July.
How does this affect California Private Homeschoolers going forward?
This just means that you don't have to wait until October 1st to file, but you are still legally allowed to wait until October 15th to file. Which means if for some reason a sheriff knocks on the door or an old school calls, you could tell them to check on your PSA after October 15th.
If you are like me and like to have all the school setup done before the fall really kicks off, then file in August! If you are pulling your child out over the summer, you can now file your PSA starting on August 1st then you can send your school your transfer letter. You don't to mess will all the waiting and possibly getting harassed by the public school.
Why was this done?
That is really it! In my conversation with the Private School Department, the California Homeschool PSA change is really just to make everyone's life a little easier. It used to be that the PSA was only available to be submitted from October 1st to 15th and if you forgot or started a new school you would have to print out a paper version and mail it it. A few years ago they started leaving the PSA available for the remaining time of the school year so things didn't have to be mailed in or reporting delayed.
Making the PSA available on august 1st will help veteran homeschoolers to not forget. It also really helps new homeschoolers and public schools! Public schools would have to keep lists of students to verify in October. It is the public schools' responsibility to make sure that students transfer to real schools.
To that length sometime students sometimes could be marked truant until the filing period closed in October. Then the parents would have to deal with calls and letters in the mail. This can help to avoid all that wasted time and annoyance to all.
That is what California Homeschool PSA change is! Are you like me and glad that the PSA is now available starting on August 1st or do you think it is a waste? Let me know in the comments what you think!
Join our community over on Patreon for webinars, hang outs, and printables/templates (like a transcript template)
You might also like Homeschooling in California: 10 Pros and Cons of Homeschooling You Need to Know